Bee-Safe Security & Investigations
Bee-Safe Security & Investigations
Categories
Investigation & Security Services
About
Bee-Safe is an Ohio small business located in New Riegel, Seneca County, Ohio, founded in 2011, by a local resident, Bee-Safe is an authorized federal contractor, that specializes in security systems and services. We are reseller of multiple brands of security equipment, we are certified in multiple brands, we're a vendor for Walmart security system implementations, we are also a reseller for armour's choice, wolfcom body cameras, phaZZer conduct energy weapons and accessories, to include certified trainers of phaZZer products, etc...
BEE-SAFE is comprised of five divisions.
Our Five (5) Divisions:
1) Physical Security – armed security officers and patrols.
2) School Resource Officers – certified through Ohio School Resource Officers Association (OSROA) &
National Association of School Resource Officers (NASRO).
3) Electronic Security – Alarms, Access Controls, Video Surveillance Systems
(stand-alone & cloud base solutions)
4) Investigations – criminal, civil, attorney support, process server, missing persons, skip tracing
5) Training (our center is Ohio Peace Officer Training Commission certified) - individuals, groups, organizations.
some course, not all listed: workplace violence, drug awareness, impactable weapons, conducted energy weapons, handcuffing, ccw, opota firearms, advance firearms, self-
defense, subject control, verbal de-escalation, narcan, first aid, cpr/aed, patrol tactics, report writing, etc...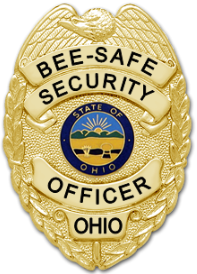 Physical Security Division:
We are proud to say we are law enforcement and military friendly, we employ both active personnel and veterans from both backgrounds, Bee-Safe Officers are true professionals. Our Goal is to produce the highest level of Officers on the market today and in doing so provide selfless Officers of solid character, ethics, morals, and integrity!
Bee-Safe Officers receive an abundance of training through our Ohio Peace Officer Training Commission certified training center. They receive report writing, patrol tactics, de-escalation, drug/alcohol awareness, lethal and non-lethal weapons, CPR/AED/First aid, Narcan, tourniquet trainings along with many more courses that we teach at our certified training center.
School Resource Officer Division:
Bee-Safe is the first private entity to be an approved member of the Ohio School Resource Officer Association (OSROA) and we are the only private entity to have OSROA Certified SROs. Bee-Safe is an active member with certified School Resource Officers from both the OSROA and the National Association of School Resource Officers (NASRO).
This was not an easy feat for us to achieve, but our determination and never accept no, lead us to achieve not only the recognition, but to have SROs actively protecting Ohio public school districts. We have had instant success within our school communities, expanding beyond just the walls of the school, our SROs are making positive impacts in our student's homes and families.
The key to a successful SRO program is to make sure you have the right Officer that fits your school's atmosphere. Our Officers go through an extensive selection process to become eligible for our School Resource Officer program. Bee-Safe officers can perform their duties and communicate effectively with faculty, students, and parents. One important goal of our program is that our SROs are accepted into their school's community.
School Resource Officers act as a deterrent and provides the school with an immediate response to any violence. Their daily presence enhances safety for the students, faculty, and administration.
Bee-Safe Security is also a member of the Ohio Intelligence Liaison (ILO). I have employees along with myself that are certified Ohio Intelligence Liaison Officers.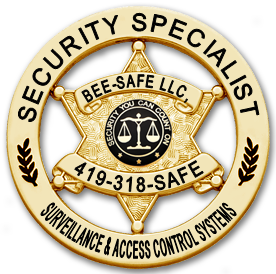 Our Electronic Division:
Make the switch to our high definition dealer grade Smart IP cameras, loaded with intelligent features. Our Smart Cameras are widely used in residential, commercial and government buildings throughout Ohio. The smart camera's video analytics will notify users of events based on customization, such as line crossing, intrusion, unattended baggage, scene change, etc… Our cameras are equipped with smart full-frame IR and technology that allows the cameras to stay full color at night, we have smart cameras equipped with 3000 lumens white led lights. View a livestream of our 4mp camera with white led lights, installed at our office in New Riegel, Ohio on our website www.beesafesecurity.org
Our access control systems allow you to integrate your access controls with your google or outlook calendars, remotely control your system's doors and users, never be disconnected from your system.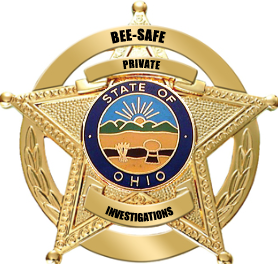 Investigations:
Our investigations divisions handles a variety of cases that are both criminal and civil, ranging from infidelity, missing person, cold cases to murder. They also perform employment backgrounds and process serving.
Training Center Division:
Bee-Safe operates an approved Ohio Peace Officer Training Commission, training center where we teach a plethora of courses for law enforcement, security and private citizens. Some courses we offer are ccw, womens self-defense, self-defense, conducted energy weapons, oc spray, baton, handcuffing, report writing, etc...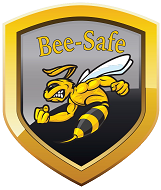 Bee-Safe offers an array of services and products, please just drop us a line to inquire about how we can assist you!
419.318.SAFE (7233)
General Security Contractor
We design, sell, install and service security systems, both stand-alone and cloud base solutions. We provide security protective services with professionaly trained Security Officers. We also conduct several investigations for individuals, attorneys and companies.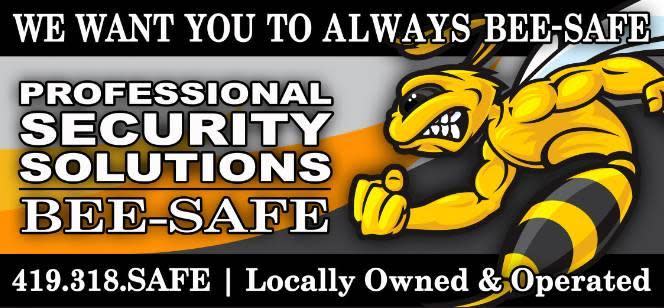 JOIN
It's easy to join. Start your journey with the Chamber today!
MEMBER RESOURCES
Use the strength and buying power of 700+ companies. Check out our member savings programs and discounts!
EVENT CALENDAR
You're Invited! See all upcoming events and happenings at the Chamber.
CONTACT US
123 East Main Cross Street
Findlay, OH 45840
P: 419.422.3313
F: 419.422.9508 (currently down)
info@FindlayHancockChamber.com